Did Sasha Banks Just BOTCH Her WWE Raw Return?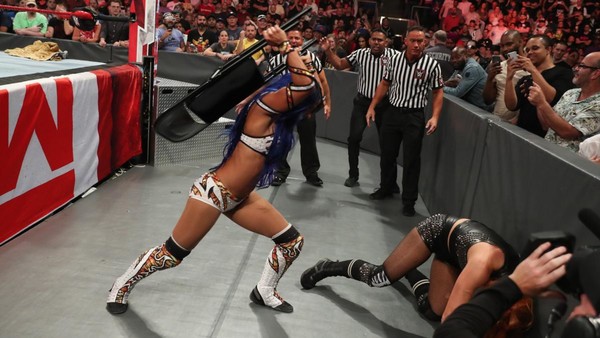 Sasha Banks mounted an awesome WWE comeback on last night's Raw, appearing for the first time in over four months to batter an emotional Natalya on the anniversary of her father's passing, before bludgeoning Raw Women's Champion Becky Lynch with a steel chair to seemingly start a programme with 'The Man.'
Unfortunately, it doesn't look like said chairshots went the way the performers had intended.
As caught by Twitter user @jussiejussie, who was in the front row last night, several of Banks' blows may have hit the back of Lynch's head:-
While the chairshots don't connect with Becky's skull full-on, it would appear that they at least clip part of it. It's telling, too, that Lynch goes down clutching her head after the most impactful blow, though she'd likely do this regardless.
There's currently no word on whether or not 'The Man' was actually hurt during the beatdown, making it impossible to say for sure whether or not this was a botch. Still, the footage doesn't look great.
At least it wasn't Shawn Spears splitting Cody's skull open with a supposedly gimmicked steel chair at AEW Fyter Fest, though. That's one positive.