17 Things You Probably Missed From WWE Raw (August 12)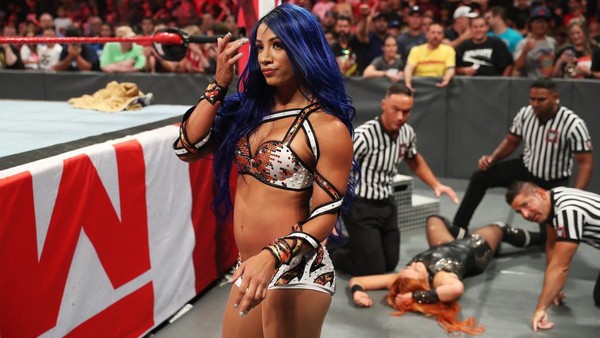 Rather fittingly, Sasha Banks bossed her WWE return on this week's Raw.
The segment had bags of controversy, not least because it appeared Sasha belted Becky Lynch in the head with some of those steel chair shots. Aside from that though, Banks also interrupted an emotional tribute from Natalya towards her deceased father Jim Neidhart, and she had plenty to say about ol' 'Anvil' to Nattie afterwards.
That's just one of the things you might've missed from the show. Other sneaky moments included some subtly brilliant selling from Seth Rollins, a five-minute commentary lapse from Michael Cole and Corey Graves, Monty Python quotes, Paul Heyman being a right pain in the ass to security and more.
Stick around right to the end to see what happened once Raw went off the air too. It's worth it to see AJ Styles acting like a cowardly heel, giving the Toronto crowd a good laugh with his banter and his attempts to drag Ricochet down with him. Styles took a pasting for his troubles. Could've been worse; he could've taken Goldberg's Jackknife like Dolph Ziggler did(n't) at SummerSlam...